Friday Is New Members Night.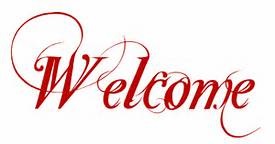 The last Friday of the month is now established as the New Members Night and is dedicated to our recent enlistees to provide an opportunity to meet established members who frequent the LSC on a regular basis. This will be a special night where the committee can meet new members and welcome them to the club. Any questions/queries can be addressed and introductions to key people in the club can be made.Be there from 8pm!

Message from your Assistant Secretary Liz Noblet.
Benfleet Yacht Club CCS Dinner Menu.

Crispy Vegatable Spring Rolls with
Thai Salard & Sweet Chilli Sauce
*****************************
Steak & Ale Pie
Or
Chicken & Mushroom Pie
Or
Vegetable Pie

Roast Potatoes & Seasonal Vegetables
*****************************
Berry Cheesecake & Cream
*****************************
Selection of Cheeses
*****************************
Coffee and Mints



If you have not already booked your place this is a reminder that the Annual CCS Dinner is at Benfleet Yacht Club on 10th March.

Please come and support this local combined cruiser event and join in with your fellow members and friends who enjoy the CCS series of cruiser races, guests of members are always welcome.

All this for just £17 per head!

We will be starting at 7.30 for 8pm. List will be going up on the notice board.

Ian Burtonshaw

LSC CCS Rep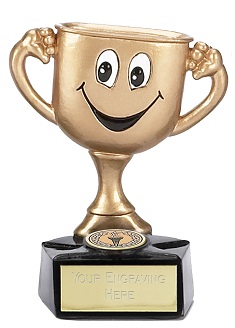 Please get your names down asap for the curry - preparations are being made and we really need to know the numbers - thanks.
7:30 For 8:00.
£7.50 Adults, £3.50 Children under 14.
Please add you names to the list in the upper saloon.
Enquiries - contact Tim Wright on 07946 474307.
Don't miss this!
Date for your diaries....
LSC Enterprise Class AGM 2018
Sunday 11th March 2018 at 11 a.m.
Venue - Leigh Sailing Club.

Details and reminders will follow nearer the time.
Non-enterprise owners and sailors are more than welcome. If you just want to get involved in sailing at any level (no experience required), then come along!
Paul Knight (LSC Enterprise Class Secretary)
mailto:
This email address is being protected from spambots. You need JavaScript enabled to view it.
[ Top ]
LSC Cruiser Supper & Grand Swindle Menu.

Starter:
Carrot & Coriander Soup with bread rolls
*****************************
Main:
Steak and ale pie.
Creamed potatoes, peas and carrots served with onion gravy.
Vegetarian option:
Vintage cheddar and onion quiche.
Creamed potatoes peas and carrots served with onion gravy.
*****************************
Dessert:
Bramley apple crumble served with vanilla ice cream
*****************************


Your chance to win some "fantastic" prizes on this annual cruiser supper extravaganza.
You need only bring yourselves, £10 per person and several top quality prizes (usually anything nautical - bit of old rope!) to contribute to the legendary 'GRAND SWINDLE' raffle. You may also need to buy some raffle tickets on the night too please.

We will be starting at 7pm. The list will be going up on the notice board in the upper saloon soon and is limited to 60 persons.

You might even end up winning something good! If you want to join in with this entertaining evening, please email Paul at

This email address is being protected from spambots. You need JavaScript enabled to view it.

or sign up on the list by the bar.



Paul Knight (your entertaining Entertainment Officer)
[ Top ]
A big thanks to the outgoing committee for all their hard work during 2017. 
We look forward to a successful 2018 with our new committee which is as follows :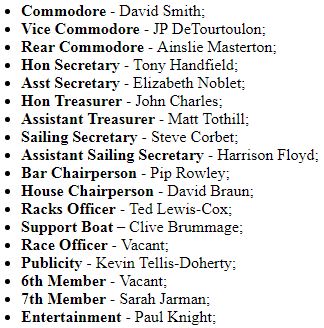 Thank you to those that attended the fish and chips supper last night and to Nick and Sue for providing the food. If you are interested in the Antares charts, this is the link: http://www.antarescharts.co.uk/
John Charles
As part of an effort to tidy up the trailers on the prom I have moved trailers that cannot be identified to the east end of the area with the trailers. If one of these belongs to you, then please could you mark it and let me know. Next step will be to put notices on them and then dispose of them after a suitable time has elapsed. John Charles, This email address is being protected from spambots. You need JavaScript enabled to view it.
[ Top ]